For java lovers, a delicious cup of coffee is an integral part of their daily routine.
A great tasting cup of Joe can warm up a nasty winter morning or make the gridlocked traffic on the Connector or Georgia 400 more bearable. But what exactly is it that makes a great cup of coffee? Give us a call today or sign up online and we will have one of our coffee experts come to your place of business and show you how to get that great coffee house cup of coffee right in your own office!
Every morning, people throughout Atlanta and around the world participate in a common ritual – that first cup of fresh hot coffee.
---
Traditional Office Coffee Service
Whether you have 5 employees or 500 employees, Fontis has a solution sure to fit your needs. Airpots for the lobby or a thermal carafe for the conference room, with our full line of brewers you will be able to find your perfect fit. Click here to get started.
---
Single Serve Coffee Service
We are serious about our coffee and with a single cup brewer from TASSIMO there isn't a more delicious way to start the workday.
Featuring world-renowned brands, TASSIMO PROFESSIONAL brings the barista into the workplace.  This one-of-a-kind intelligent system creates unique specialty beverages with the touch of a button.

Get Started Now

Sophisticated
Create exceptional cappuccinos with genuine GEVALIA espresso topped with a layer of frothy steamed real milk creamer.

Stunning
Authentic café-style lattes featuring delicious layers of bold GEVALIA espresso and real steamed milk creamer.

Superb
Savor the silky flavor and enticing aroma of every cup of real coffee from premium brands like GEVALIA.
Stimulating


Invigorating Euro-style GEVALIA espresso that employees can enjoy without leaving the workplace.

Soothing
Taste elegant TWININGS teas, in preferred varieties like Earl Grey and English Breakfast, expertly steeped to elicit perfectly balanced flavor.
Satisfying


Relax with the decadent flavor of hot chocolate made with real chocolate syrup from SUCHARD, one of Europe's premier chocolatiers.
HIGH-QUALITY TASTE
Coffeehouse-quality cappuccinos and lattes made with real milk and espresso.
PREMIUM BRANDS
Euro-style GEVALIA espresso and coffee, rich and creamy SUCHARD hot chocolate and delicately steeped TWININGS teas.
SUPERIOR SIMPLICITY
Real-time LCD instructions help you create specialty beverages in less than two minutes with the touch of a button.
---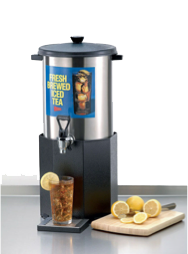 Fresh Brewed ICED TEA
"When it comes to this Southern staple, we say the sweeter the better!"
Sweetened or unsweetened Fontis Iced tea is the perfect beverage for workplace!  With one of our iced tea brewers, brewing a refreshing batch of iced tea is a snap!

Get Started Today
---
Turnkey Breakroom Solutions
From paper products to soft drinks and everything in-between, Fontis has what you need to fully stock your breakroom and keep you employees happy. Call, click or ask your route sales representative