Yes, school bells will be ringing and the children will be singing in two weeks! Okay, maybe they won't be singing, but the bells will definitely ring and school will soon be in session across the state of Georgia. As you begin to think about packing healthy lunches, don't forget the Fontis Water.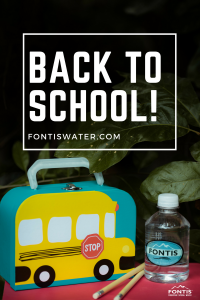 Putting a bottle of Fontis Water in your child's lunchbox is not only easy, it's also a wise choice.  "Water supplies your child with everything he needs to keep his body hydrated and to replace fluids lost through sweating and eliminating waste. According to the Alliance for a Healthier Generation, water is one of the best drinks to pack in your child's lunchbox. It's calorie-free and helps energize your child for the afternoon ahead. Freeze a reusable bottle of water and use it to keep your child's lunch cold and fresh until it is time to eat.
Just as healthy drinks boost the nutritional value of your child's lunch, certain drinks can decrease how nutritious the meal is. It is important that you do not pack fruit-flavored juice pouches. "They are primarily made from water and sugar and don't supply the same concentration of nutrients that 100 percent fruit juice does. Skip energy drinks and soda because they contain huge amounts of sugar. They also contain caffeine, which isn't good for your child. According to the Harvard School of Public Health, your child is at an increased risk for weight gain and type 2 diabetes if he regularly consumes these beverages."*
Our water comes from the Blue Ridge Mountains and we deliver straight to your front porch. 1/2 liter bottles are available for home delivery, as well as 5-gallon water bottles for our water coolers. To learn more, visit our website or call 678-494-1981.
*Source http://healthyeating.sfgate.com/healthiest-drinks-pack-school-lunch-2589.html