Let's Get Creative!
From corporate promotion to hospitality, special events and wholesale, private label water is a great way to deliver your message or celebrate a momentous occasion.
Whether you are selling a bottle of private label water, or offering complimentary bottles to an audience, you are communicating a message with a current or soon-to-be customer.  Consider a personalized bottle of water to be your company's superior business card—a way to leave a lasting impression and elevate your brand.
Personalized bottles of water are also a special addition to meaningful events, and a great way to commemorate weddings, birthdays, family reunions, and more!
Fontis uses the latest in digital printing technology to deliver quality, custom labels at an affordable price.  
All of our labels are printed on premium mylar and are available in either white or clear.  The labels feature permanent adhesive, lamination for stunning colors, and full waterproof durability.
Whether you prefer black and white text, or full-color photographic images, there is no difference in price—you can be as creative as you like.  And if you need design help, our professional art department can work with you to create the perfect label.
Fontis Water's primary objective is to ensure that your premium, customized bottled water exudes a quality unmatched by the national brands.  A private label bottled water that looks better, tastes better, and simply sells better, allows you to deliver your company's message better.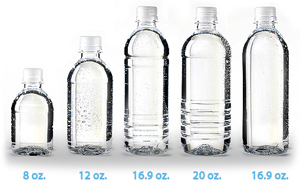 Delicious Tasting Water in 5 Convenient Sizes
Prices are for purified water – add $0.50 per case for Fontis spring water
All bottles are clear with flat cap.
Bullet bottles available on 16.9oz – please add $0.30 per case
One time set up fee of $50
Can be shipped anywhere in the US. Additional Freight Rate will be quoted
Orders under 40 cases please add $25 surcharge (minimum 25 cases)
Additional charge for clear labels
Pricing & Delivery
Private Label Water Pricing
(24 bottles per case)
| Case Qty | 8oz | 12oz | 16.9oz |
| --- | --- | --- | --- |
| 25-71 | $14.60 | $14.65 | $14.75 |
| 72-144 | $14.00 | $14.05 | $14.10 |
| 145-216 | $13.55 | $13.60 | $13.65 |
| 217-288 | $11.65 | $11.70 | $11.75 |
| 289-360 | $10.00 | $10.05 | $10.10 |
| 360+ | Call | Call | Call |
Contact Us
Custom labeled water bottles from Fontis are easy and affordable! Whether you desire black & white or full color photographic images, there is no difference in price. You can be as creative as you like.