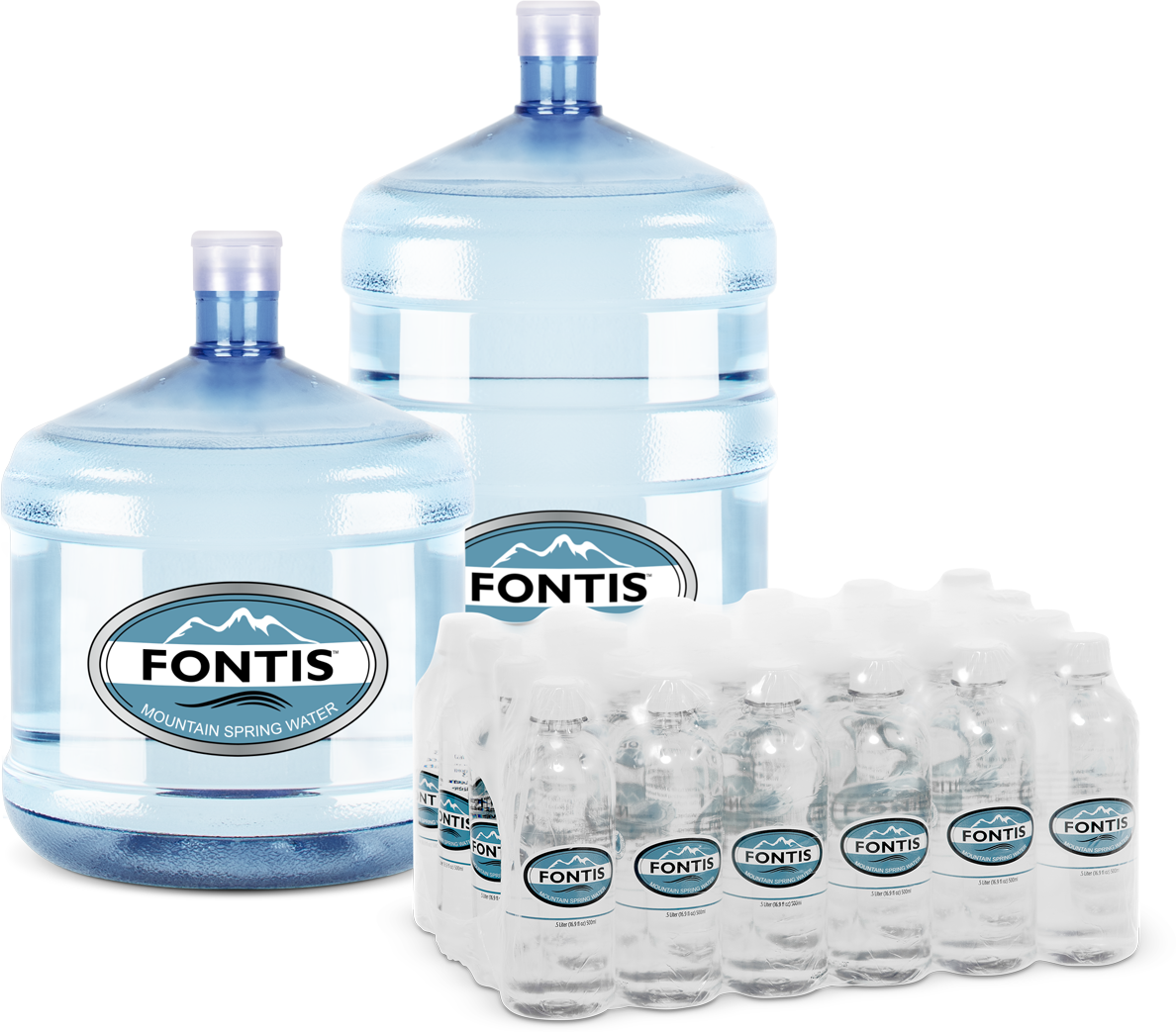 New Account Special $14.95*!
Includes water cooler and 3 bottles of water. Use code 1CASE at checkout.
*First recurring order only.

At Your Service in Home and Office
Fontis Water has solidified its place as the premiere beverage delivery service in Atlanta because of the quality of our products and extraordinary customer service.
Every bottle of water we deliver comes with the guarantee that it is the best tasting, and most pure that you can find—and we know you, your family, co-workers and customers will agree.  We at Fontis can state this with confidence because each step in the process—sourcing, filtering, and bottling—is all done in-house at our mountain spring facilities in North Georgia.
With the best products, award-winning service, and courteous staff in the business, Fontis is uniquely equipped to exceed the expectations of our customers in and around Atlanta.
Having Bottled Water Delivered to Your Home or Office Is Easier Than You Think.
Contact one of our friendly customer service representatives today to establish your account with us.  Upon the initial phone call, we will help you decide the sizes and quantities to best fit your needs; and work with you to set up a convenient delivery schedule.  Prior to your delivery dates, you will receive an email reminder to set out the empty bottles, so your driver may replace them with full ones. Should you ever wish to add a product, change your quantities, or skip a delivery, you can do so by logging into your online account, responding to the reminder email, or calling our office.  We at Fontis work hard to give our customers the flexibility to customize every aspect of their delivery service, all while making the process convenient and affordable for all to enjoy.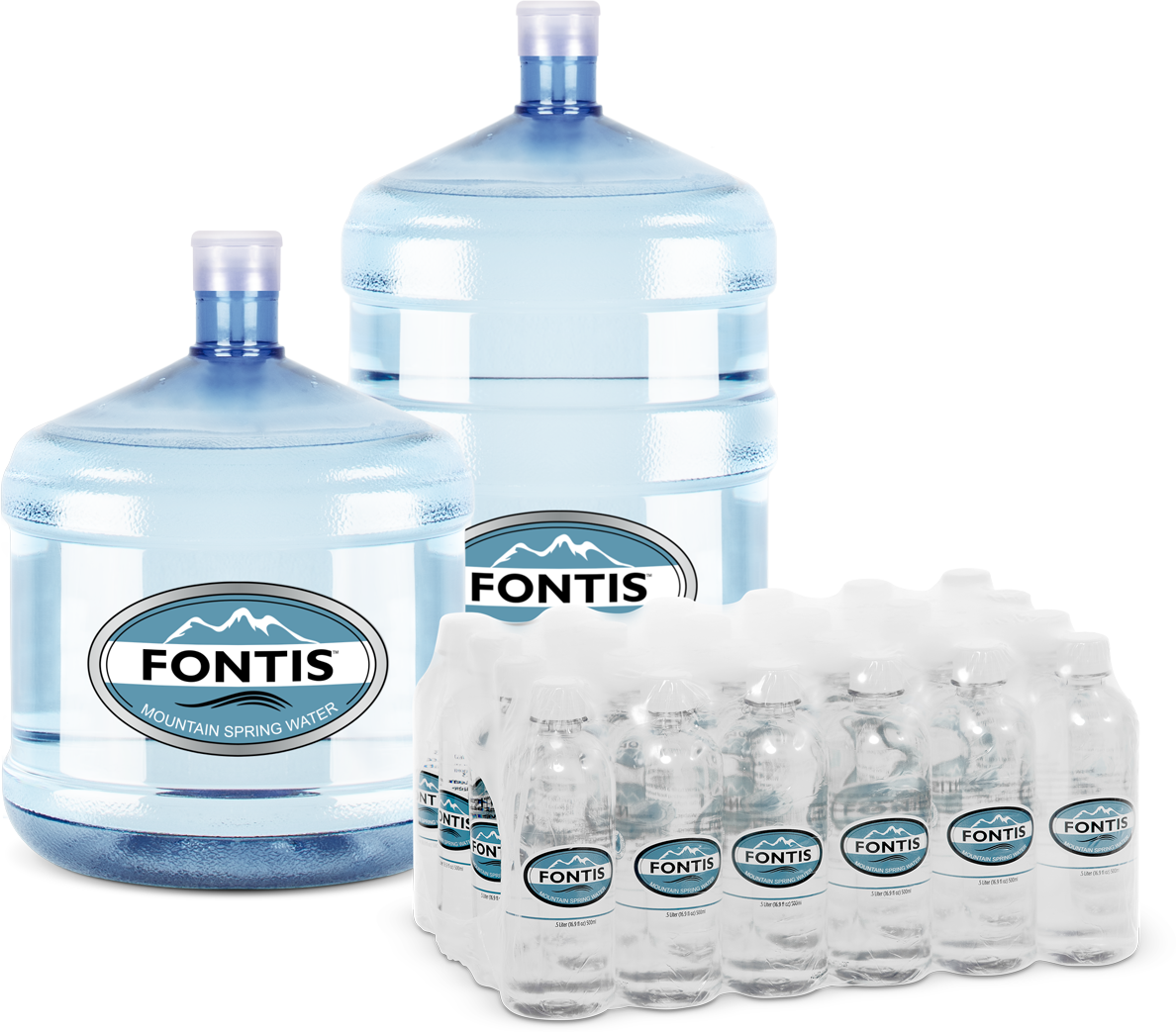 Which Option Is Best For You?
The 5-gallon bottles–available in Spring, Purified, or Distilled—and 3-gallon bottles—available in Spring and Distilled—are the most popular and most affordable option for both home and office use.  No matter the size you choose, we will help you decide which Fontis Water dispenser is right for you.
And for those on the go, Fontis has you covered with premium 16.9-ounce and 8-ounce bottles of our refreshing Spring water, bottled in sturdy, recyclable PET plastic bottles, and available by the case.
We also offer stylish 5-gallon glass bottles of Fontis Spring water; and 1-gallon plastic bottles of Distilled water—perfect for filling coffee makers, humidifiers, and CPAP machines.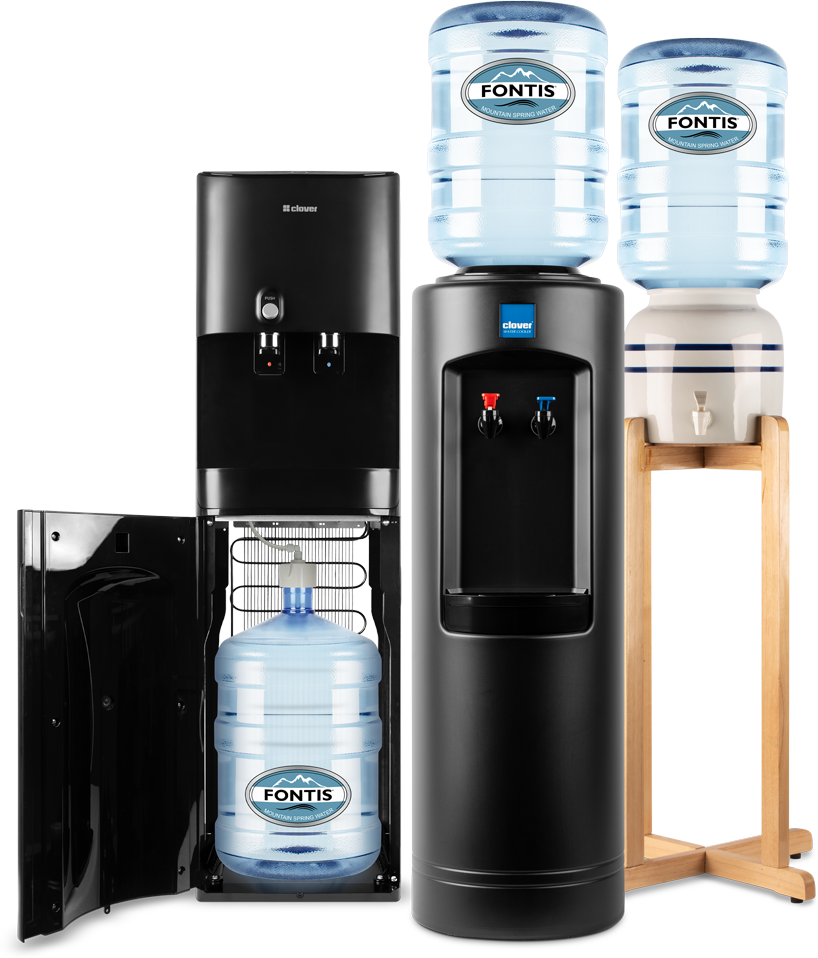 Which Water Dispenser?
Fontis Water uses only commercial grade water dispensers with stainless steel tanks, which ensure refreshing and pure water from the bottle to your glass.
Standard, upright coolers—our most popular models–dispense both cold and hot water, and are available as top or bottom loaders.  The hot water spout provides near-boiling temperature water without any wait time—perfect for making tea, instant oatmeal, or soups.  These coolers also feature a childproof spigot.
Other options we offer include countertop dispensers; standard coolers that provide cold and room temperature water only; and a ceramic crock, available with or without a stand.
Each dispenser is available to rent, and you can change at any time!
Why Rent Instead of Purchase?
Fontis Water has a team of trained technicians to help maintain your equipment.  Let us ensure your coolers are cleaned regularly and properly, as we adhere to all FDA guidelines to give you the cleanest, freshest drinking water.  And should you ever experience a mechanical problem with your cooler, a service member is just a call away.
As your needs change, we have an option to fit nearly every space.
How It Works
Create an account with Fontis to enjoy the best water delivery service in the area, and the prompt, friendly service on which we've built our reputation. We have made the process simple and convenient to better serve you.
1
Contact us for water delivery services in Atlanta or by phone at 678-494-1981. A member of our staff will help you determine the best size and quantities for your home or office, and give you a customized quote to meet your needs.
2
On the scheduled day, your route salesman will set up your system and show you how everything works.
3
Monthly, you will receive an email and phone call prior to your delivery, reminding you to set out your empty bottles. This is your opportunity to let us know if you would like to make any changes or additions to your regular order. If not, there is no need to reply, and we will just replace your empty bottles with the next month's supply.
4
You can sign in to pay your bill and manage your account at any time. Better yet, put a credit card on file and simply review the monthly statement that we will deliver via email on the last day of each month.
5
At all times, YOU control your deliveries—and we will do everything we can to meet your needs.
Contact Us
We have a couple of questions for you, then a Fontis Water representative will be in touch to discuss options and pricing.