Fontis Water was founded in June 2003 with one purpose: to deliver Georgia's best, most preferred natural spring water to families and businesses with an unmatched devotion to customer service.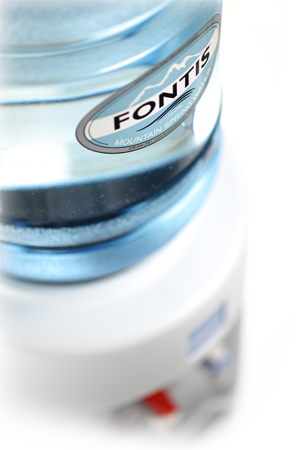 The company's founder and president, 28-year-old Jamie Carroll, comes from a family with a decades-old tradition of bottling pure, natural spring water. The Carroll family owned and operated Georgia Mountain Water until it sold the company in 2000.
After working in the industry for 13 years, Carroll decided to carry on the family bottling tradition. He started his own venture under the same guiding principles of outstanding customer service and superior quality that led to the success of his family's original company. He has returned to his roots, bottling spring water from a pristine deep rock source on family-owned land nestled high in Georgia's Blue Ridge Mountains.
Fontis Water is headquartered in Marietta, Ga. and bottled at a facility located near Blue Ridge, Ga. The customer-focused company delivers 3-gallon, 5-gallon, 1-gallon and single-serving bottles to homes and businesses throughout the metro Atlanta area.
Since its formation in June 2003, Fontis Water has developed a substantial base of home and office delivery (HOD) customers throughout metro Atlanta. The company is well on its way towards achieving its goal of establishing relationships with 2,500 customers during its first year of operation.
Fontis Water is a company poised for growth. Carroll's vision is to expand distribution to serve families and businesses throughout the state of Georgia and eventually the entire southeastern United States. The young entrepreneur's overall business philosophy of providing the highest quality product and impeccable customer service is the driving force behind the continued success of Fontis Water.