Join us at the 9th annual Acworth Turkey Chase this Saturday, November 18, in downtown Acworth. Participants will enjoy an exhilarating 5K run through Historic Downtown Acworth and along the shores of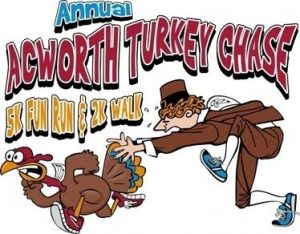 beautiful Lake Acworth. Walk, jog, or run … all are welcome! Participants of all ages and abilities are encouraged to take part in the event, and did we mention there will be Fontis Water to keep you hydrated?
Participants can choose between the 5K Untimed Fun Run, 5K Timed Run, or the 2K Walk! Prices vary depending on age and date of registration.
All participants must bring a non-perishable food item on race day to receive their race number and Acworth Turkey Chase t-shirt. The 5K Fun Run will begin at 9:00 a.m. and the 2K walk at 9:15 a.m. on Main Street in Downtown Acworth. There will be a "Little Pilgrim" Trot for children up to age 5 beginning at 10:00 a.m. on Main Street.
We hear that after the race, Henry's Louisiana Grill offers a wonderful Saturday brunch. Well deserved we would say! Have a great race, and remember to drink plenty of Fontis Water!