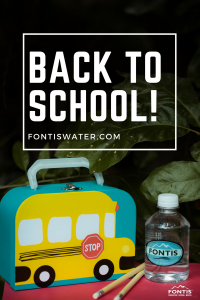 It's back to school time for kids throughout metro Atlanta. This means fueling up on coffee and making the dreaded lunches! But did you know
Fontis Water
can help you with both of those tasks?
Time to Get Ready
Can't function without that cup of coffee? Fontis can help. We can deliver your favorite K-cups straight to your home. Can you smell the goodness of that coffee brewing? The aroma alone should help you get through those hard to start mornings.
Don't Forget the Water
When packing up those lunches for school, don't forget the water! Fontis Water is the perfect water to pack in your little one's lunch box. Heck, it's the perfect water bottle for your lunch too!
Scrubbing.in.com
reminds parents to leave out the juice and pack a bottle of water instead. Juice provides little nutritional value and contains a lot of calories leading to increased weight and obesity over time. Along with the water, don't forget to pack healthy food items. Choose whole grain bread over white. Send a fruit and if your kiddo isn't too picky, a vegetable would be great too. Trailmix and snacks like this are also a good addition to a lunch. For more information on having Fontis Water and coffee delivered to your home, call us today at 678-494-1981. We think our pure spring water is second to none, but we built our reputation on providing the best prompt and friendly service in the industry. From our drivers to our customer service staff, we hope talking with us is one of the best parts of your day. Because it's the best part of ours.