Atlanta's Original Oysterfest is back and Fontis Water is proud to be a sponsor! That's right, the 34th Annual Steamhouse Lounge Oysterfest is back. Known as Atlanta's original oysterfest, the fun–packed weekend will take place Saturday and Sunday, February 26 and 27.
Highlights of the event include roasted and chargrilled oysters, live music and a full bar. Oh and don't forget there will be lobster bisque, po'boys and of course Fontis Water. Oysterfest will take place on Saturday from 11 AM – 7 PM and on Sunday from 11 AM to 6 PM. Along with Fontis Water, other presenting sponsors include Bud Light and Titos Handmade Vodka.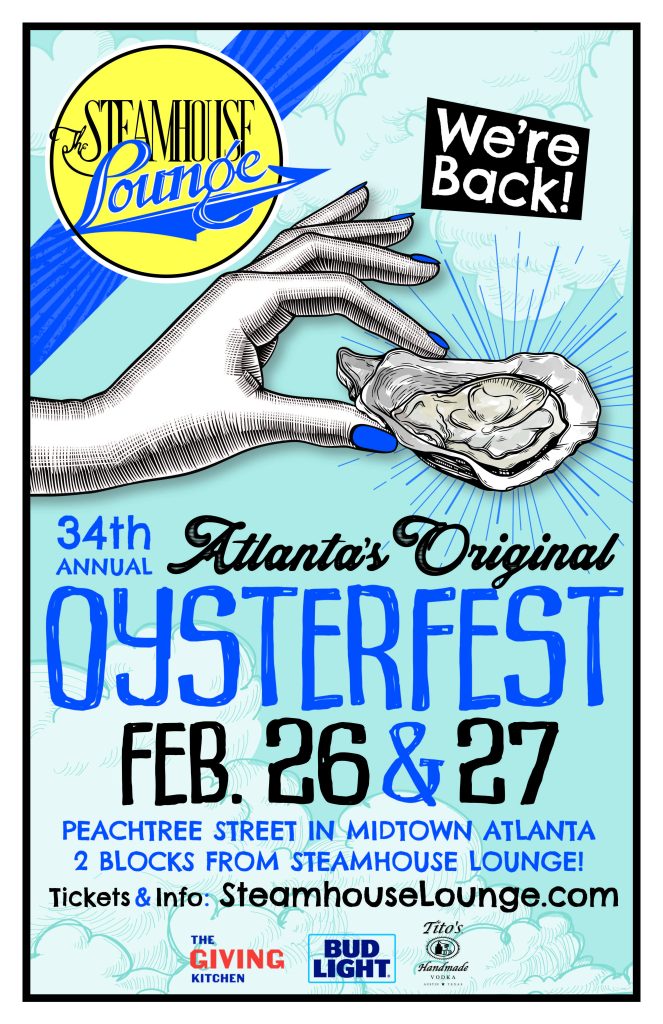 TICKETS ON SALE NOW!
Tickets are on sale now. Saturday's ticket is $25, and as a bonus you get in free on Sunday with your Saturday ticket. Or you can purchase a Sunday only ticket for $15. You may purchase your tickets today at Freshtix.com!
Oysterfest will take place at the corner of Peachtree Street & 12th Street in Midtown, only two blocks from the Steamhouse Lounge! The event entrance will be locate at Peachtree St & 12th St.
THINGS TO KNOW:
The event is CASHLESS. All transactions at the gates, bars, and restaurants will not accept ANY cash, credit/debit cards ONLY. 
MUSIC LINEUP
Saturday
11:30am Francisco Vidal
12:50pm Jive Revival
2:15pm Roshambeaux
3:45pm The Happy Hour
5:30pm Shamarr Allen
Sunday
12:00pm Francisco Vidal
1:30pm Sixty-1 Highway
3:00pm Ana Popovic
4:30 The Delta Circus A Tribute to The Rolling Stones 
*Buying advance tickets does have its advantage! Print your ticket at home or display on your smart phone, and enter the event in our guaranteed admission, express-entry lines at each gate. Day of show tickets might be more expensive…and will definitely take longer to get in. Do the smart thing….Buy Now!
Support a great cause! Steamhouse Lounge Oysterfest benefits GIVING KITCHEN!
Oysterfest 2022 is a proud supporter of Giving Kitchen. Giving Kitchen (GK) is a nonprofit organization that provides emergency assistance to food service workers through financial support and a network of community resources in order to create a community where crisis is met with compassion and care. Since its inception, GK has given over 1,300 grants to food service workers in Georgia. GK's shift starts when theirs can't. For more about Giving Kitchen, visit givingkitchen.org and follow @givingkitchen.