It's so refreshing to be able to write about real events this Memorial Day weekend! Last year we were knee deep in quarantine and this year the weather looks beautiful and restrictions are few and far between.
First up on our list of suggestions is Van Gogh: The Immersive Experience. Here is what it's all about:
Have you ever dreamt of stepping into a painting? Take an awe-inspiring journey into the incomparable universe of Van Gogh, one of the greatest artistic geniuses of the 19th century. Explore his life, his work, and his secrets as never before through cutting-edge 360 degree digital projections. It's a one-of-a-kind VR experience, and a uniquely atmospheric light and sound show. Become completely immersed in the works of art around you, and feel the shift in reality as you dive deep into the world created by Van Gogh's brush strokes.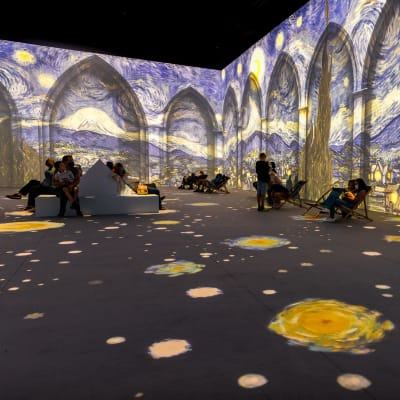 Atlanta Botanical Garden
Starting this weekend, there is a new exhibit at Atlanta Botanical Garden. SUPERnatural: Glass Art in Bloom brings dozens of large-scale contemporary glass sculptures by Jason Gamrath, reflecting the beauty of nature to the Garden. The 13 installations of about 150 pieces of brilliantly colorful sculptures will all represent blooming plants. Of those, the Seattle-based artist has created about 30 exclusively for the Garden's exhibition. Displayed throughout both indoors and out, the sculptures feature orchids, pitcher plants, aloes, lotuses and more. Gamrath is known for his internationally acclaimed exhibitions of his colorful take on nature.
Oakland Cemetery
The Arts at Oakland is happening now through May 31. It showcases the work of six amazing regional artists in five installations across Oakland Cemetery. The tour is self-guided and visitors are encouraged to visit from dusk to dawn, free of charge.
So many amazing things to do this Memorial Day weekend! So enjoy and don't forget to pack your Fontis Water in your cooler! Have a great Memorial Day Weekend!