The weather is beginning to cool, slightly, and soon it will be time for the most beautiful leaves, which means it's almost time to head to the mountains!
Need some help on where to go? Of course our first recommendation would be Blue Ridge, the home of our mountain spring water! If Blue Ridge is on your list check out this fun way to view the fall foliage.
Take a train ride
When you head to the mountains, don't miss the mountains of North Georgia, the ideal location for experiencing some of the finest views. Blue Ridge Scenic Railway offers fall foliage trips Sept. 21 – Nov. 6, 2023, on the historic railway. Beginning at the historic depot in downtown Blue Ridge, wind your way along the Toccoa River in a vintage rail car, observing the canvas of bright colors. These are some of the most popular trips, so it's best to book reservations at least three weeks in advance. 
More Great Places to Visit When you Head to the Mountains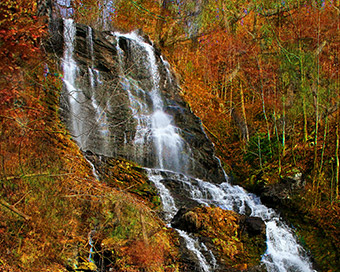 Just an hour north of Atlanta you'll find the Southeast's tallest cascading waterfall. A short, flat path leads to a boardwalk offering the most spectacular views. There's also an easy-to-reach overlook at the top. For a tougher challenge, start from the bottom of the falls and hike up the steep staircase.
At an altitude of 3,640 feet, Black Rock Mountain is Georgia's highest state park. (Brasstown Bald is the state's highest peak.) Roadside overlooks and the summit Visitor Center offer sweeping views of the Blue Ridge Mountains. The 2.2-mile Tennessee Rock Trail is a good choice for a short, moderate hike. For an all-day challenge, take the 7.2-mile James E. Edmonds Backcountry Trail. Stay atop the mountain in cozy cabins or wooded campsites.
---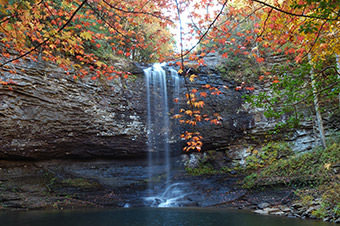 One of Georgia's most beautiful parks offers easy-to-reach rim overlooks and challenging trails. A favorite hike takes you down a staircase to the bottom of the canyon, where you'll find two waterfalls. (Remember, you have to hike back up, but it's worth it.) The 5-mile West Rim Loop is moderately difficult and offers great views of the canyon. Mountain bikers can test their skills at the Five Points Recreation Area. Yurt guests stay overnight right by a hiking trail.
---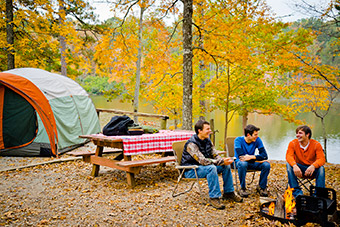 Many people are surprised to find hardwood forests and rolling mountains south of Atlanta. The 6.7-mile Wolf Den Loop is a favorite section of the longer Pine Mountain Trail. For a touch of history, drive to Dowdell's Knob to see a life-size bronze sculpture of President F.D. Roosevelt and views of the forested valley. Ga. Hwy. 190 is a pretty driving route.
---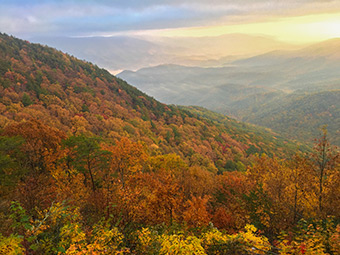 This park is best known for its stone fire tower and a mysterious rock wall along the mountain top, plus a variety of trails. For the easiest walk, take the 1.2-mile loop around the park's green lake. For a challenging, all-day hike, choose the 8-mile Gahuti Trail. Mountain bikers have more than 14 miles to explore. Hwy. 52 has beautiful mountain scenery and overlooks worth stopping to see.
---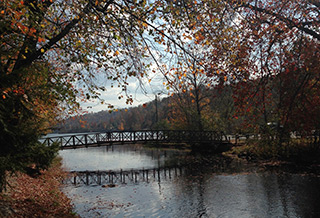 Georgia's smallest state park sits on the shore of a gorgeous deep-green lake. Guests can choose from the 2-mile Hemlock Falls Trail or 1-mile Non-Game Trail with a wildlife observation tower. Hwy. 197 is a particularly pretty road, passing Mark of the Potter and other popular attractions.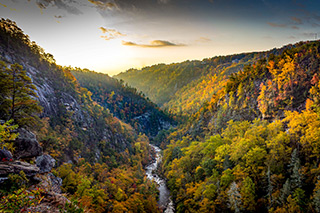 Tallulah Gorge is one of the most spectacular canyons in the Southeast, and you can choose from easy or difficult trails. Hike along the rim to several overlooks with waterfall views, or take the staircase down (and up from) a suspension bridge. Camp inside the park or rent cabins at nearby Black Rock Mountain State Park.
No matter where you may travel this weekend or when you head to the mountains … Enjoy! And be sure to take along your Fontis Water!