Did someone say coffee and Happy Valentine's Day in the same sentence? If you did, then you agree with us that nothing says "I love you" like a hot cup of java complete with your favorite breakfast item.
Valentine's Day Fun Facts
While some live for the romantic holiday, others … not so much. But did you know each year, thousands of romantics mail letters addressed to Verona, Italy to "Juliet?" Yes, that Juliet, as in "Romeo and Juliet." The city marks the location of the Shakespearean tale. The letters that reach the city are actually answered by a team of volunteers from the Juliet Club.
Another fun fact? Did you ever wonder where the tradition came form giving chocolate? You can thank Richard Cadbury. Mr. Cadbury was a scion of a British chocolate manufacturing family. The family established a way to create more varieties of chocolate. With those idea Cadbury grabbed the opportunity to sell the chocolates as part of the beloved holiday.
And we love this one! Did you know the chalky heart-shaped candies that have been passed out for years on Valentine's Day started out as lozenges? Yes, according to the Food Business News, pharmacist and inventor Oliver Chase created a machine that would quickly create the lozenges before switching to using the machine to create candy—later known as Necco Wafers.
But let's get back to saying "I love you" with coffee ideas.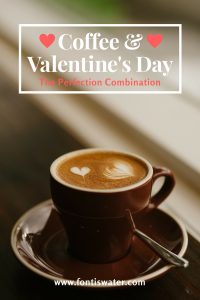 Dinner
How about a coffee themed dinner? Blogs and posts everywhere are offering suggestions for restaurants, but this can easily be done at home. From "basic mole sauces to after-dinner liqueurs, you can move beyond the Valentine's cliché of plain-ol'-chocolate" and move to the dinner, and drink, they love! And flowers on the table can certainly not hurt!
Gifts
How about a book about the beloved warm brew? Alon Halevy has written The Infinite Emotions of Coffee which discusses how the popular drink has influenced cultures around the world. "Halevy, a senior research scientist at Google, has traveled the world romancing coffee while following the thread that connects the beguiling bean worldwide." A new brewing machine or personalized mug might also be the gift to their heart. From photo mugs to personalized sayings, it looks like you can order almost anything on any sized mug.
Fontis Coffee
That's right, Fontis also delivers some of the finest java in the business straight to your home or office. Why not set your sweetheart up with a delivery of our own brand? There is no doubt a great tasting cup of Joe can warm up a nasty winter morning or make the gridlocked traffic on the Connector or Georgia 400 more bearable. Learn more about making this gift a reality at FontisWater.com.