The cold weather has arrived this weekend! It is sweater weather, fire pit weather and yes, it's drink more coffee weather! And for the best tasting coffees, look no further than Fontis Water. We not only deliver the most refreshing and best tasting water in Atlanta, but we can also deliver coffee to your home or office. No matter whether it be drip or k-cup, we can meet all of your coffee needs.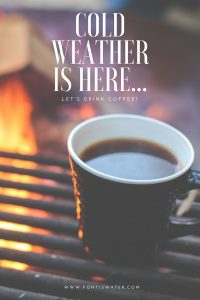 If you love drip coffee, we offer such well-known brands too. These include, Starbucks, Dancing Goats, Seattle's Best, Dunkin' Donuts, Maxwell House, and even our own Fontis fresh roasted coffee! We highly recommend trying one of our favorite flavors, which include Dark Roast, Breakfast Blend and Donut Shop.
Fans of the K-cup, do not worry we have your favorite brands too. Ten Tall, Copper Moon, Selfie's Singles, and Bigelow can all be ordered from us.
And if you are a drinker of coffee only in the winter, be sure and check out these amazing winter drink recipes. No need to visit the coffee shop, when you can make incredible drinks at home and not venture out in the cold weather.
To learn more about our coffee service and home delivery, visit FontisWater.com or call 678-494-1981.