Cooler temperatures have finally arrived, and we could not be more excited about 65 degree evenings at Fontis Water! With the cool weather comes the time for some great warm drinks, and we have got some recipes for you to try at home this weekend.
Did Someone say Coffee and Spirits?
We found some incredible adult coffee recipes and think you might too!
Warm Coffees for Cool Days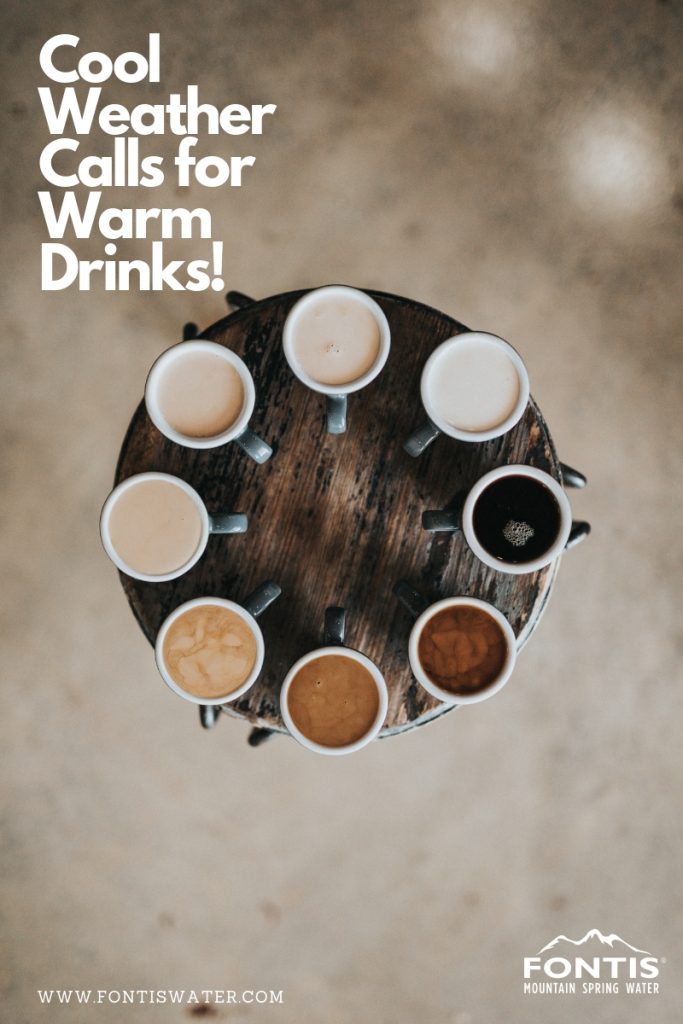 Hot White Russian for those Cool Evenings
2 1/2 cups freshly brewed coffee
1/2 cup heavy cream
1/2 cup Kahlúa or other coffee-flavored liqueur, or to taste
1/4 cup vodka, or to taste
Whipped heavy cream for garnish if desired
Directions:
In a saucepan stir together the coffee, the 1/2 cup cream, the Kahlúa, and the vodka and heat the mixture over moderate heat until it is hot. Divide the mixture among heated mugs and garnish each drink with some of the whipped cream.
Anatolia Cafe
1 oz. Pierre Ferrand 1840 cognac
1 oz. Luxardo Cherry Liqueur
¼ oz. Cinnamon Syrup
Coffee
Directions:
Mix all ingredients and top with coffee, whipped cream, and powdered cinnamon.
Gingerbread Breakfast for Cool Mornings
2 oz. Spiced and buttered Captain Morgan's rum**
3/4 oz. Ginger syrup
1.2 oz. Half and half
Top with black co
**Buttered Rum:
1 bottle Captain Morgan's rum
4 oz. Unsalted butter
2 tbsp. Maple syrup
2 tbsp. Granulated sugar
2 tsp. Cinnamon
10 Cloves
Directions:
Place all ingredients except rum in a pot and bring to a simmer till butter is melted. Slowly stir in rum. Pour into a casserole dish and place in freezer for 35 minutes. Skim butter fat from surface. Pour through a fine mesh strainer.
Courtesy of PB&G at the Four Seasons Orlando
Looking for a non-alcoholic alternative? We loved this Dulce de Leche Coffee recipe from Ree Drummond as well as this Cafe Mocha recipe from Trisha Yearwood.
And the even better news? You can order your favorite coffee from Fontis Water to make all of these incredible drink recipes. Enjoy the cooler temperatures and have a great weekend.