It's important to stay healthy, right? Eating right and exercising can prolong our life and make us feel better overall; but did you know the healthy employees are happier employees?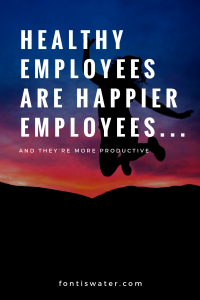 Many companies are recognizing this fact as everyone is returning to the office. Companies are making it easier for employees to take a day off for doctor's visit and even care for a friend who might be ill. A great example of this can be found at the Vermont Energy Investment Corp (VEIC). They have created a culture in which its "employees can take a sick day without guilt or fear of termination." In an article the company explains they were founded on the principle that "good employees drive great results. To its founders, that meant fostering a balance between life and work for all of their employees. VEIC employees can count on a number of supports to deal with the health emergencies that are an inevitable part of life."
A Healthy Balance
A healthy balance of work and personal life can also lead to a healthier employee. Inc.com states the first place to start when it comes to work life balance is by offering employees the chance to work flexible hours that meet their personal needs. This boosts morale since employees can schedule their work hours around their personal lives.
Reduce Stress
And did you know approximately one-third of workers report high levels of stress? While this can reduce productivity and increase employee turnover, stress is an extremely costly concern for business owners. It's been found that "healthcare expenditures are nearly 50% greater for workers who report high levels of stress." Furthermore, "insurance claims for stress related industrial accidents cost nearly twice as much as non-stress related industrial accidents."
Sleep Work Disorders
Did you know nearly 15 million American employees either work at night or rotate in and out of night shifts?
From Uber drivers to emergency room nurses, nearly 15 million Americans work at night or rotate in and out of night shifts. Many more pick up extra hours for overtime or work a second job to make ends meet.
Although researchers are just starting to look at the impact of COVID-19 on shift work, it's safe to say that in many industries — and most particularly in healthcare — shift work increased over the last year and a half. We've all seen stories of employees working long hours into the night in crowded hospitals with COVID patients. Essential workers, from grocery store cashiers to police officers, also saw their hours increase — along with their risk levels.
Among the challenges that shift workers face is one that isn't a problem for nine-to-five workers. It's called shift work sleep disorder
(SWSD), and it affects between 10%-40% of shift workers. By working hours that are not in sync with their biological clock, shift workers experience poor quality sleep, leading to significant problems, both on the job and off.
It's extremely important that these employees stay healthy and happy too! We found some great tips for avoiding this disorder at myslumberyard.com.
What else makes a healthy employee? One who eats and drinks right. Fontis Water can help employers keep their staff healthy by offering their employees the healthy choice of water. Our water is pure, natural mountain spring water sourced from our family-owned, deep rock spring nestled high in the Blue Ridge Mountains of Georgia. To learn more about Fontis Water call us today at 678-494-1981.