Throughout the country, many employees are finding themselves working from home. If you are one of them, you might be realizing how much you can get done working remotely. And guess what? According to a new study, you are right!
According to Forbes.com, "without using spyware or capturing keystrokes, a California-based company has tracked a 47% increase in worker productivity." The study used non-invasive technology, and it is showing that smart companies are gaining ground by having workers work not work in an office setting. As a result of this productivity, working remotely may possibly become the new normal.
Survey Data
According to survey data compiled from 100 million data points across 30,000 users, here's how team members are making the most out of their home office:
The average worker starts work at 8:32 a.m. and ends work at 5:38 p.m
Tuesday, Wednesday and Thursday are the most productive days, in that order
Telephone calls are up 230%
CRM activity is up 176%
Email is up 57% and chat is up 9%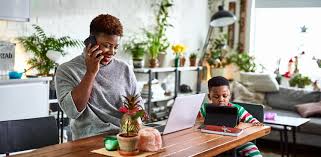 But what about the water cooler? If you are one of the many now working from home and you miss your Fontis Water cooler, remember we can set up the same cooler at your home! And of you think you don't have the space for a cooler, no worries! We can also deliver our 1/2 liter bottles straight to your front door. To learn more, call us today at 678-494-1981.