If you are one of the those who can't live without a water bottle, it is important that you keep those water bottles clean! Because according to a recent news report, your water bottle can be really disgusting.
In the U.S. Sun and several other news outlets it was reported last week that reusable bottles may contain 40,000 times more bacteria than the average toilet seat. This is according to a study from US-based waterfilterguru.com. The study said the bottles were like a "portable Petri dish."
The Dirty
"The human mouth is home to a large number and range of different bacteria," Imperial College London molecular microbiologist, Dr. Andrew Edwards told the New York Post. "So it's not surprising that drinking vessels are covered in microbes."
However, University of Reading microbiologist Dr. Simon Clarke stated that reusable water bottles are "not necessarily dangerous." "I've never heard of someone getting sick from a water bottle," Dr. Clarke said.
The water bottles tested included a spout lid, straw lid, and squeeze-top lid bottle. And of the three, the squeeze top turned out to be the cleanest!
"Water bottles are likely to be contaminated with the bacteria that are already in people's mouths," he added.
Keep Your Water Bottles Clean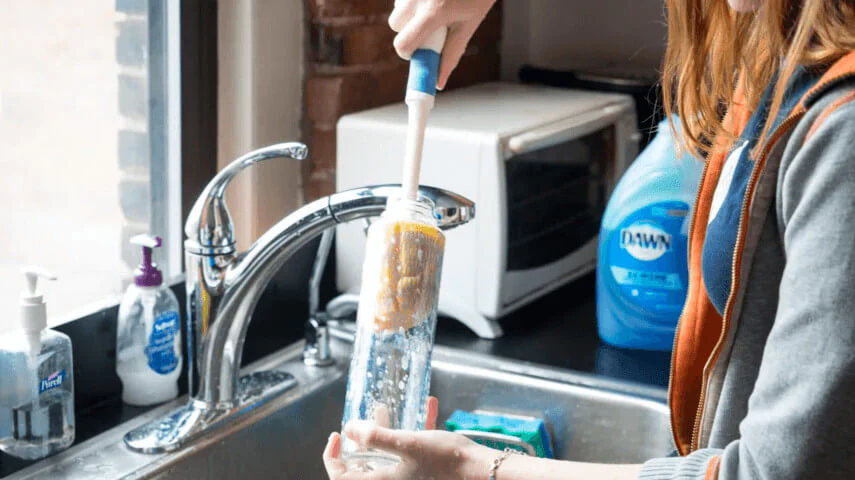 To be on the safe side, experts say to wash your reusable water bottle at least once a day with hot soapy water.
It's also good to sanitize your bottle at least once a week.
Remember to clean your water bottle more often if you've been sick. Also clean after you drank from it while eating, or are filling it with a different liquid from water.
Not into water bottles? Then let us deliver our Fontis Spring Water 24 -16.9 oz bottles to you. They are the ultimate in convenience and quality. 100% natural spring water from North Georgia in a 16.9 oz bottle.