It is going to be a glorious weekend in metro Atlanta, so why not take a hike? This weekend's temperatures will have you thinking it's April, rather than February! So a hike, sounds like a good idea, right? And since we are full of good ideas, here are a few of our favorite recommendations to help you decide where to enjoy that walk!
Kennesaw Mountain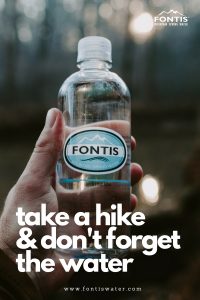 One of the most popular places to hike in Metro Atlanta is Kennesaw Mountain located off Kennesaw Mountain Drive. The park is open during daylight hours only, which is 6:30 AM – 6:30 PM (Standard Time) and 6:30 AM – 8:30 PM during Daylight Savings Time (March-November). The mountain offers hikers a choice of a hike on pavement or through the natural terrain. Once at the top, enjoy a gorgeous scenic view and take a rest on a bench. On a clear day you can see the state for miles! We also recommend refueling at the top with a bottle of refreshing Fontis Water.
Sope Creek Trail
Sope Creek Trail is another awesome place to head out for a hike. Hikers can hit this trail to the ruins of a stacked-stone Civil War-era paper mill on the banks of a rocky creek, and then loop to a serene pond in a scenic Chattahoochee River park in Atlanta. This location is not only great for a hike, but also for an afternoon picnic.
Morgan Falls Overlook Park
Opened in 2010, this was the first new park opened by the City of Sandy Springs since its incorporation. Amenities include not only hiking trails, but also picnic pavilions, a playground, restrooms, boat dock, fire pit, porch swings and scenic views.
Silver Comet Trail
The Silver Comet Trail is located 13 miles northwest of Atlanta, Georgia. It's free of charge, and travels west through Cobb, Paulding, and Polk counties. This quiet, non-motorized, paved trail is for walkers, hikers, bicyclists, rollerbladers, horses, dog walkers, and is wheelchair accessible. The trail is 61.5 miles long, and starts at the Mavell Road Trailhead in Smyrna, Georgia. It ends at the Georgia/Alabama state line, near Cedartown and The Esom Hill Trailhead.