As Thanksgiving and Turkey Day approaches in 2023, we extend our warmest wishes to you and your loved ones. This holiday season, as you gather with family and friends, take a moment to reflect on the abundance of things you are grateful for throughout the year. At Fontis Water, we express our sincere thanks to all our valued customers who have been a part of our journey.
As we anticipate enjoying quality time with our families, please note that our offices will be closed on Thursday and Friday (November 23 and 24, 2023). Happy Thanksgiving from all of us at Fontis Water! Before you dive into the festivities, here are some updated and fascinating Thanksgiving Day trivia to share with your loved ones.
Turkey Day Trivia: A Modern Perspective
Our national holiday of Thanksgiving, and turkey day, finds its roots in the autumn feast of 1621, where Plymouth colonists and Wampanoag Indians came together for an autumn harvest celebration. This feast is recognized as one of the earliest Thanksgiving celebrations in the colonies. Over two centuries, individual colonies and states marked days of thanksgiving, and in 1863, President Abraham Lincoln proclaimed Thanksgiving Day amidst the Civil War.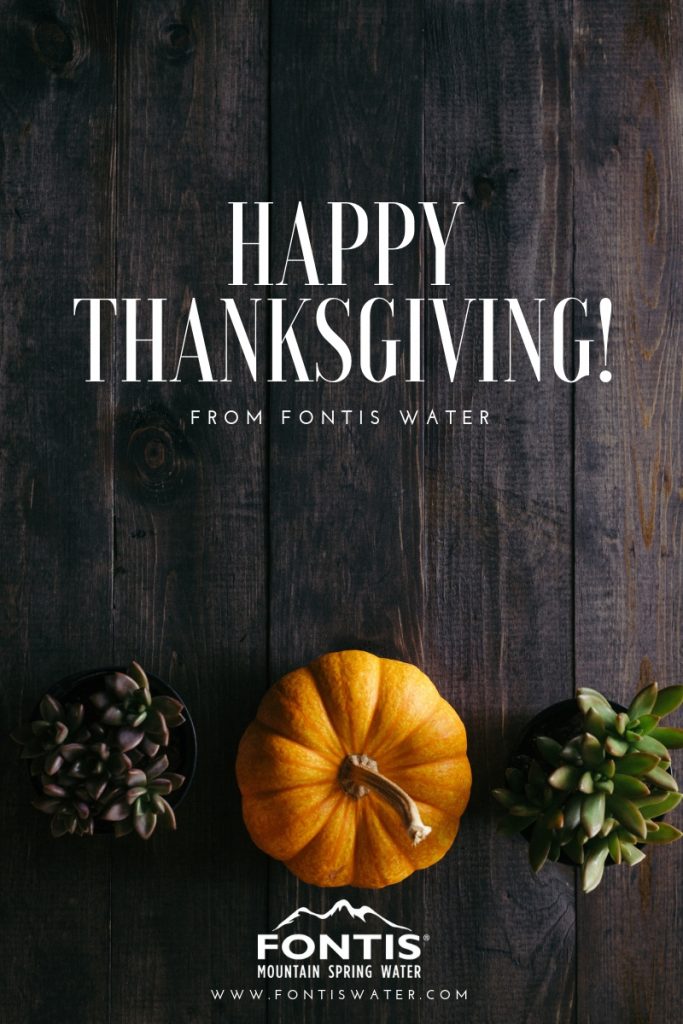 Now, let's impress your family and friends on turkey day with some intriguing Thanksgiving trivia:
Butterball's Turkey Talk-Line: Experts answer over 100,000 questions between November and December on Butterball's Turkey Talk-Line. For those in need, the hotline number is 1-800-288-8372.
Turkey Production in the U.S.: In 2016, a whopping 244 million turkeys were raised in the United States, with around 44.5 million coming from Minnesota.
Thanksgiving Dinner Spending: An astonishing $2.983 billion is the amount spent on Thanksgiving dinner, a.k.a. turkey day, in the U.S. That's a lot of turkey, stuffing, and gratitude around the table.
Sweet Potato Harvest: Major sweet potato-producing states contributed to the production of 3.1 billion pounds of sweet potatoes in 2015.
Turkey-Inspired Places: Explore fun places with turkey-themed names, such as Turkey Creek in Arizona, Turkey in Texas, Turkey Creek Village in Louisiana, and Turkey in North Carolina.
The First Thanksgiving Feast: Contrary to popular belief, turkey wasn't at the top of the menu during the first Thanksgiving. The inaugural feast likely featured deer or venison, ducks, geese, oysters, lobster, eel, and fish. While these options sound delectable, we're undoubtedly grateful for the enduring tradition of turkey and dressing.
As you embark on your Thanksgiving celebrations, filled with joy and gratitude, remember the historical roots of this cherished holiday. We wish you a Happy Thanksgiving, and a happy turkey day, surrounded by the warmth of loved ones and the aroma of delicious Thanksgiving delights.
And as you prepare for 2024, we hope you will call on Fontis Water for all of your water and coffee needs. Let us deliver our great tasting water and many different coffee options right to your home or office door. Learn more about our coffee here.
Fontis Water is pure, natural mountain spring water, sourced from a privately owned, deep-rock spring nestled high in the Blue Ridge Mountains of Georgia. Surrounded by unspoiled National Wilderness, our spring water is protected from contamination by industry or agriculture. When it comes to water, we believe you should know exactly what you're drinking—and that the sourcing and processing should be as clear as the product itself.
Our 100% pure spring water is delivered to homes and offices throughout metro Atlanta. Our mission is to deliver the best, most preferred natural mountain spring water with unmatched customer service and genuine enthusiasm. It's been a family tradition since 1980.
Happy Turkey Day from all of us at Fontis Water!
The above statistics are sourced from the Census Bureau, USA TODAY, and Statistics Brain, offering a modern twist on traditional Thanksgiving trivia.