PFSA, it is known as the water contaminant that scientists say isn't going away. However, many are not aware of it and what it means to their water consumption. Today we want to inform you on what it is and the good news? You will not find this in your Fontis Water!
What is PFAS
According to CBS News, PFAS is an acronym for a family of man-made compounds called per- and polyfluoroalkyl substances. The CDC has a list of health effects believed to be associated with exposure to those chemicals, including cancer, liver damage, high cholesterol, and more. The chemicals are so highly mobile, they're not only being found in soil and ground water, but in the atmosphere, too. In fact, they've even been detected in raindrops falling in some of the most remote areas of the world.
The article went on to provide the following information. PFAS chemicals have been around for decades. DuPont was the first to use PFAS in Teflon, giving us those non-stick pots and pans. 3M used a different PFAS in its once-popular fabric protector, Scotchgard.
Today, those chemicals' cousins can still be found in almost anything meant to fend off oil, water or grease. That includes things like pizza boxes, paper plates, rain jackets, ski wax, even guitar strings. 
PFAS are basically impossible to escape, and scientists say they're likely here to stay.
National Crisis
According to Melanie Benesh, a legislative attorney at the Environmental Working Group in Washington, "PFAS contamination is really a national crisis, and the real scale of contamination is staggering. The more we test, the more we find it." Benesh says the manufacturers aren't the only ones to blame: "There has also been regulatory failure. The FDA knew in the 1960s, the Department of Defense in the 1970s, the EPA since at least the '90s, and they didn't treat the issue with amount of urgency."
This past June the EPA did update its drinking water advisories about PFAS, warning that even the tiniest amount over a lifetime may be enough to cause negative health effects in humans. But it did not create a new federal drinking water standard.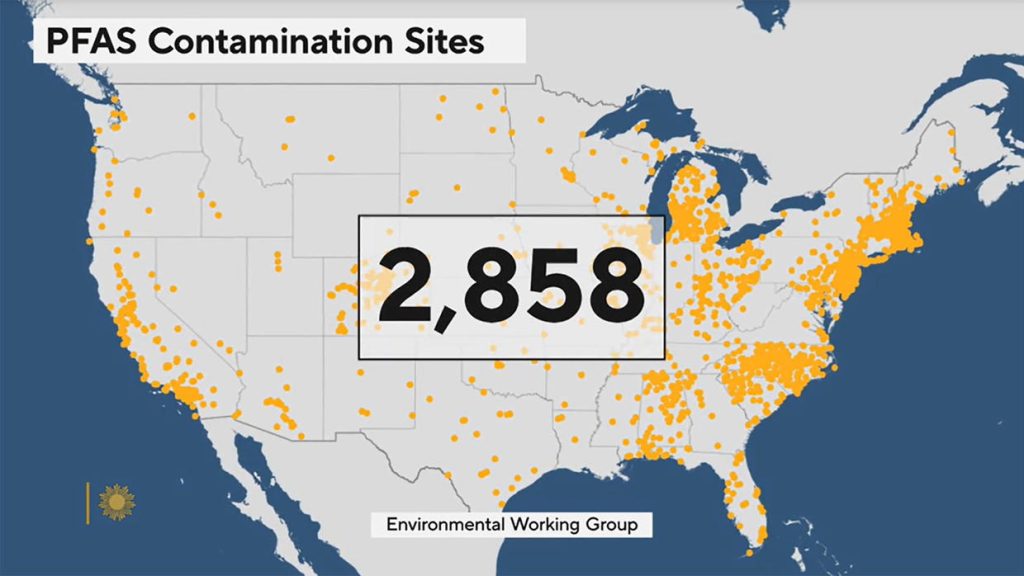 Fontis Water
This is something you simply do not want in your water and we are proud at Fontis Water to say this contaminant can not be found in our water. This fact can be found in our most recent water report from August 2022. Not drinking Fontis Water? We chan change that today! Simply call us at 678-494-1981 and let us set up your home delivery today.