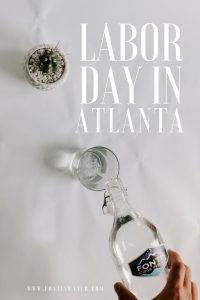 It is Labor Day weekend in Atlanta and honestly, you could not ask for more to do in our great city. From parades to football, there is something for everyone this last official weekend of summer.
Dragon Con
The
2018 Dragon Con
has arrived in Atlanta this weekend. Yes, the city might look a bit different as thousands descend upon the streets of our town dressed as super heroes, Star Wars characters, wizards, warlocks, and the list goes on! In case you don't know how Dragon Con started, here are the basic facts. Pat Henry, David Cody, John Bunnell and Robert Dennis all chipped in $300, rounded out with a few of their friends planned the first Dragon Con for the fall of 1987. The idea was to combine fandoms and genres into a single convention for fans who, like them, were interested in different things. In the early going, that meant bringing a science fiction convention and gaming convention together in the same hotel. Some 1,200 fans turned out to meet science fiction luminaries Michael Moorcock and Robert Asprin and gaming royalty Richard Garriott and Gary Gygax. Moorcock and his longtime friend Eric Bloom, lead singer for Blue Oyster Cult, jammed on stage. The Atlanta Radio Theater broadcast a live performance of H.P. Lovecraft's Call of Cthulhu from the con. In almost every respect, the show was a smash and the attendance grows every year.
Chick-fil-A Kickoff Game
Labor Day may be the end of summer, but it's also the beginning of
college football
season. This weekend at Mercedes-Benz Stadium, the Auburn Tigers will take on the Washington Huskies. The game begins at 3:30 ET, but fans can enjoy all kinds of events before the game, including Fan Fare! Not into fighting the crowds or the traffic? A weekend on the couch sounds great to us too! What could be better than watching your favorite team in your comfy clothes. We like that idea too, and remember there is also the US Open and the Braves! No matter where your plans take you, stay safe and stay hydrated with
Fontis Water
! Have a great Labor Day weekend!