With a touch of fall in the air, this Saturday is the perfect day to visit the Marietta Square Farmers Market. The market, which takes place every Saturday from 9 AM to Noon, offers not only great veggies and treats, but also a place to catch up with local friends.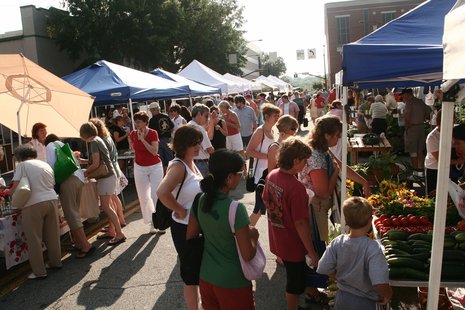 The market has an average of 54 vendors and hundreds of customers each week. Visitors have lots of variety to choose from including heirloom tomatoes, fruits and vegetables. Looking for potatoes, onions, tomatoes, squash, or beans? You can find those yummy items too! One of our favorite things to purchase are the beautiful fresh flowers! The growers outdo themselves each weekend. Local honey, herbal soaps, whole grain breads, jelly, jam and preserves are also popular items at the market.

Like Fontis Water, the Marietta Square Farmers Market is a part of the Georgia Grown organization.
The Market takes great pride in its vendors. As a matter of fact, the objective of the Marietta Market is to support the development of the local agricultural economy which will in turn foster stewardship of the land and goodwill in the community. It provides a great place for local growers to sell their goods and become involved in their community. And the community loves the vendors!
So tomorrow morning, when you ask yourself what you should do? We say, grab a bottle of Fontis Water, and head on over to Marietta. You will not regret your morning decision!