There are so many events happening in Atlanta for Memorial Day weekend, we know it is hard to choose. However, if you want to be where Atlanta's best tasting water will be, might we suggest the Atlanta Jazz Festival. Once again, your favorite bottled water company,
Fontis Water
, will be the official water sponsor of the
2017 Atlanta Jazz Festival
. The festival is celebrating its 40th Anniversary and has a line up sure to please all music lovers. The weekend kicks off on Friday, May 26 with The Pedro Martinez Group performing on the Legends Stage at 7 PM. They are followed by Robert Glasper Experiment at 9 PM.
Saturday's li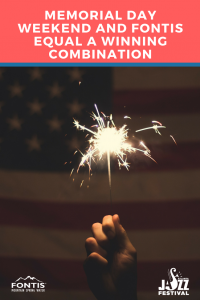 ne up
includes everyone from Macy Gray to Marquis Hill Blacktet. The evening ends with a late night jazz jam which will feature Lil John Roberts and the All Star Band featuring Russell Gunn and Mino Cinelu. The event begins at 11:00 PM. On Sunday the fun begins at noon and goes until after 9 PM. The
three different stages will feature
jazz legends, contemporary artists and even next generation musicians.
JAZZ FESTIVAL FACTS:
The Atlanta Jazz Festival is regarded as one of the country's largest free jazz festivals. It is an annual musical showcase that celebrates jazz legends and up-and-coming jazz greats in venues throughout metropolitan Atlanta during the entire month of May. The festival culminates each Memorial Day Weekend with show-stopping performances at Piedmont Park. The Atlanta Jazz Festival is a Class A Festival, which means there are a number of
rules and ordinances
in place to help keep all safe in a large festival environment.
Loews Atlanta Hotel
is the official host hotel of the 2017 Atlanta Jazz Festival. Whether you're traveling to Atlanta for the festivities or whether you're a local who wants to avoid festival traffic, the beautiful Loews Atlanta Hotel is a short stroll to Piedmont Park, the Atlanta Jazz Festival's venue. Fontis Water is a local business, founded and operated in Marietta. We love Atlanta and the communities we serve. We support local events, businesses and charitable organizations, but most importantly we love to see and serve our customers. Fore more information on Fontis Water being delivered to your home or office call us at 678-494-1981 or online at demicapps.fontiswater.com.