This Saturday is one of our favorite's, it is the Taste of Smyrna.
Taste of Smyrna "Festival of Delectable"
Taste of Smyrna "Festival of Delectable,"
will take place this Saturday September 15th from 11:00 AM to 8:00 PM on the beautiful Village Green in downtown Smyrna. Admission is free and samples can be purchased for $1 to $4 dollars. Attendees can enjoy great tasting food from more than 30 vendors. A few include, Atkins Park Restaurant and Bar, Stockyard Burgers & Bones, Taco Mac, Marlow's Tavern and Copeland's. Kenny's Great Pies will also be there to add a great ending to your tastings.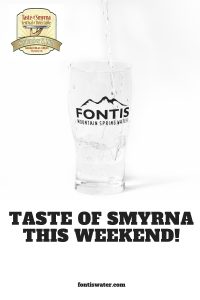 There will be acoustic music from Scott Thompson throughout the day. The Main Stage entertainment will culminate with a concert at 7:00 PM. There will also be an enormous Kids Zone with interactive inflatables.
Fontis Water
Along with all the great food, there will be plenty of
Fontis Water
on hand. Come see us at our tent. Say hi, and buy a bottle of the best water in town. As a local business, founded and operated in Marietta, we love Atlanta and the communities we serve. We support local events just like this one and love getting to see many of our customers in the area!