Water Filtration Lets You Have It All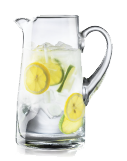 New to water filtration? Don't worry, it's simple! A Fontis professional will come to your office and attach a small water line to your existing water supply. That water line will then carry water to a Fontis Water filtration system where ordinary tap water is transformed into delicious drinking water. With water filtration from Fontis the possibilities are endless; in addition to your bottle-less water cooler your filtered water can often times be connected to your coffee brewer, refrigerator or icemaker!
Because You Deserve the Best…Fontis uses Everpure Filters

Everpure's unique Micro-Pure® precoat technology has set the standard for the water filtration industry. The major difference is in the filter itself. For starters, the membrane has nearly six times the filtering surface area of carbon filters, so it's like packing nearly six filters into one canister.
Next, rather than using a solid carbon block to filter water, this technology's accordion-folded filter membrane is covered on both sides with the very fine activated carbon coating, called Micro-Pure®, and this combination offers consistent performance. With the exclusive precoat filtration, off-taste, odors and particles as small as one half-micron in size – including lead and asbestos – are removed, making your drinking water as clean and healthy as possible; in short, we're removing contaminants better than other filters in the industry.
Everpure's precoat filters also ensure that the last drop of water is as great as the first-not only in taste, but in performance as well. Everpure filters provide continuous, reliable functionality through the entire life of the cartridge, securing balanced filtration of particles and chemicals. This technology is one that other filter companies have unsuccessfully tried to duplicate, and one which yields superior filtration efficiency.