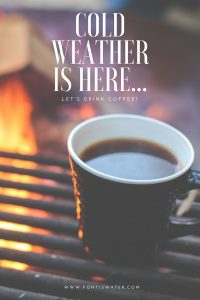 The weather models are changing rapidly, but it looks like there is a slight chance North Georgia might get a bit of winter weather this weekend.
There are already reports this Friday morning that rain is pushing into parts of the state, according to Channel 2. Most areas, however, will just get sprinkles today, according to Karen Minton. She said temperatures in metro Atlanta may not get out of the upper 40's. However, the big weather event will be Saturday and Sunday.
Winter storm watches have been issued for parts of northeast Georgia beginning Saturday night and ending Monday morning. One watch scheduled to go into effect at 7 p.m. Saturday covers Habersham and Rabun counties.
Heavy mixed precipitation is possible with total snow accumulations of up to 10 inches, according to the National Weather Service. Ice accumulation could be up to two-tenths of an inch, the Weather Service reported.
So, whether we get snow or not, it sounds like a great weekend to us to enjoy some warm Fontis coffee … indoors! K-Cups and drip coffee are all available for delivery to your front door.