Several weeks ago we wrote a post about working from home. We loved the comments and suggestions and wanted to take a deeper dive into the benefits of working from home with man's best friend.
We've all seen the memes about our dogs being over-walked during the pandemic. Those are truly funny, but in all honesty, they probably love the extra walks, especially as the temperatures begin to drop. While humans might have been ready to pull their hair out, our dogs are loving this extra one-on-one time.
But did you know that working at home with our dog can actually help us on a number of levels? In a recent blog post on fluentwoof.com, writer Patty Oelze, gives a list of benefits from working at home with Fido.
Lowers Stress Level
Patty writes, "have you ever been at work and thought how much happier you would be if you could bring your best fur-iend with you? The joy of working from home is even more beneficial when you have a dog. In fact, according to studies done by the Human-Animal Bond Research Institute (HABRI), having a pup reduces anxiety and depression. Somehow, they increase your "feel-good" hormones, lower anxiety, and decrease your blood pressure."
Happy Worker … Happy Pup
Being at home with your dog might make you happier, but it is also going to make your dog happier as well!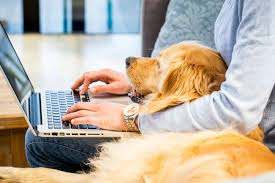 "They love that you are home with them all the time! Even while you are working, just having you there with them makes your dog happier. With their best fur-iend home with them, how could they not be happier? Many pooches have separation anxiety when left home alone whether you are aware of it or not."
Remember to Plan for Your Dog's Needs
"With you working at home, your dog's needs can change, too. It's easy to get swept up into a busy day of work, but schedule regular time to take your dog outside and give him the exercise that he needs. Make sure to give your dog plenty of attention so that he doesn't feel neglected, and consider crate training your dog so that he learns how to happily relax in his own space while you're on an important call."
Man's best friend also needs to stay hydrated! Be sure to have plenty of Fontis Water on hand for not only you, but your precious pooch as well!